Regular price
Sale price
$15.99 USD
Unit price
per
Sale
Sold out
Revitalize your space with the crisp aroma of Iris, for a healthy home atmosphere.
Creating a healthy and refreshing atmosphere is key to keeping your home feeling comfortable and welcoming. With Iris Room Spray, you can freshen up any room in an instant with its invigorating scent that brings the outdoors inside. The crisp floral aroma of iris instantly fills the air, making it perfect for revitalizing stuffy spaces or setting the mood for relaxation.
Our premium quality formula ensures that every use delivers optimal results in eliminating odors and providing long-lasting freshness. Experience a delightful way to create a warm ambiance at home with Iris Room Spray today!
Freshen up your living space with Iris room spray, creating a healthy atmosphere for you and your family
Transform any room in your home into an oasis of calm with the soothing scent of iris
Enjoy the invigorating aroma of our Iris room spray while keeping unpleasant odors at bay
Elevate your home's ambiance effortlessly with this luxurious fragrance that will leave you feeling revitalized and refreshed
Freshen up any room in your home with our light and vibrant iris scent!🌷
Create a fresh and healthy atmosphere.
Long-lasting lavender scent.
Perfect for bedrooms, living rooms & offices.
Share
View full details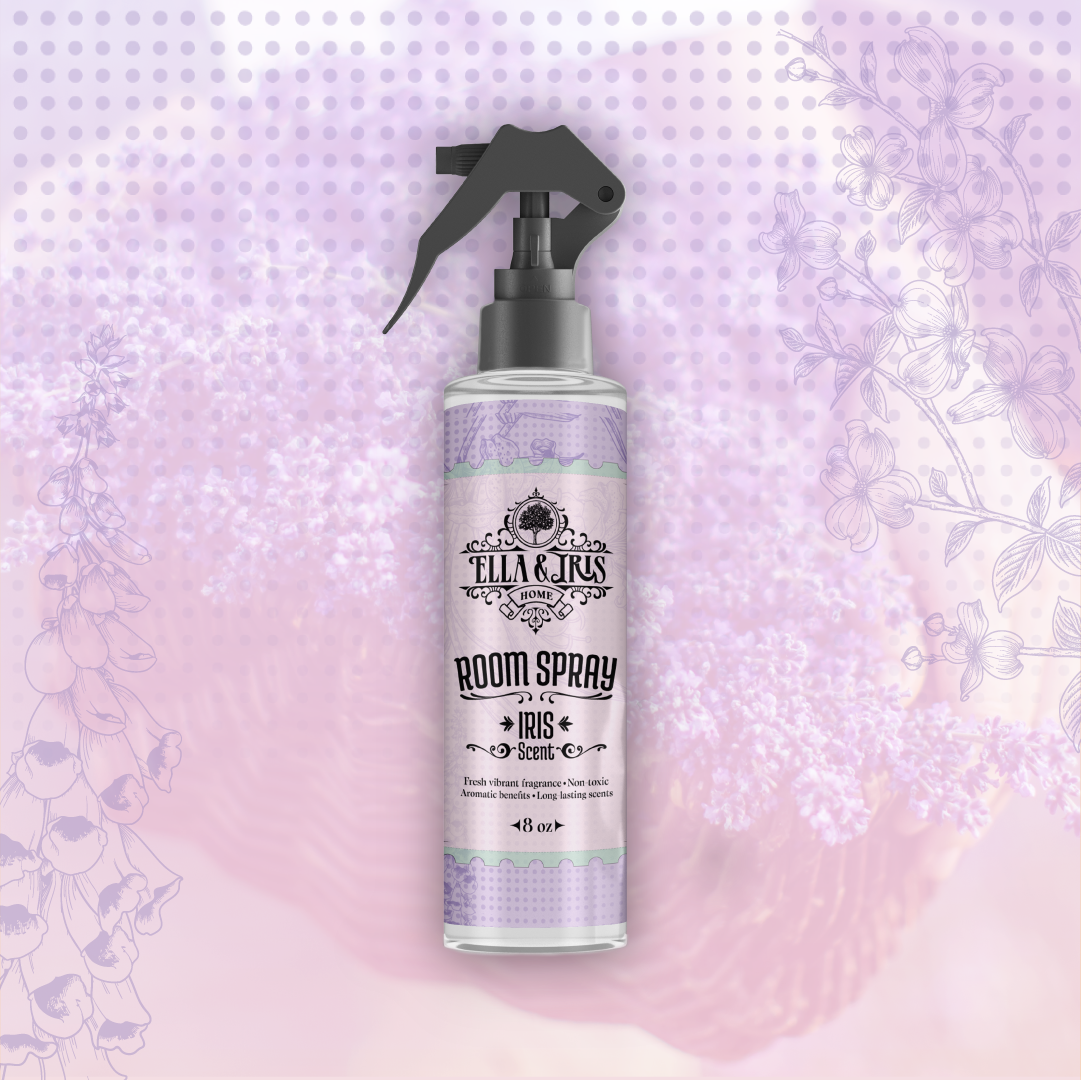 It's great
Best thing to come along in a long time better than any other household spray would recommend to entire family thank you very much for being there.
Thank you, Laurence for your great review! We very much appreciate you giving us a try and taking the time to write about your positive experience.
Love the spray, does not smell like irises to me and I had a backyard full of them, but still love the scent.
Thank you for trying us out! It really is a different kind of 'Iris' fragrance named more for the founder's Grandmother than the flower itself. It does, however, have a note of iris in it's fragrance blend. Glad that you like it and thanks for taking the time to leave us a great review.
the scent takes me on a journey. Ilove it
Thank you again, Mark for reviewing both Iris and Clean House room sprays. Your positive review contributes to the success of a small business and keeps us going! We appreciate you taking the time to give us this 5-star rating.
JUST BUY IT
The fragrance of the Iris room spray is soft and beautiful. If you are a floral lover like me, just buy it. Prettiest scent ever. Packaging is so cute as is the bottle. Love the spray lock feature too. This leaves my room smelling the best it ever has.
Hi Tasha,
Thank you for your support of Ella & Iris Home. We appreciate your 5-star review of our Iris fragrance and for taking the time not only to leave us a review but to spread the word on social media!
Scent
I really don't like the scent. It's kind of weird. I thought it would have a more of a flowery smell.
Hi Peggy,
I am sorry you did not enjoy the fragrance you purchased. Thank you for trying us out anyway. We sent you an email and hope that the resolution is acceptable.